Hey – look at me go – three posts in one week!!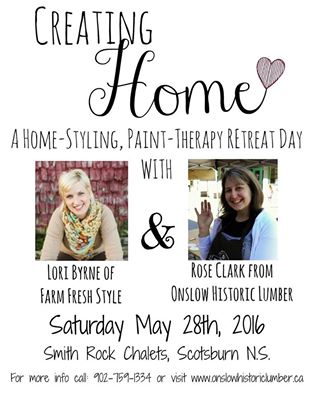 I popped in today to tell you about an exciting retreat coming up this month!  Rose, from Onslow Historic Lumber, and I are teaming up again to bring you 'Creating Home'.  This retreat will be about paint, colour but mostly about your home.
We are busy planning painting projects!  We can't have a day without painting something!  And the projects are going to be geared to dressing up your home.  So, you'll get to learn a few different techniques plus you'll have some awesome things to take home with you, too, made by you, especially for your home!  Here's an example on one of our projects:
Rose will teach you all about painting with Milk Paint, from mixing to applying the paint to finishing your project off with the right sealer for the job.  We'll be using Miss Mustard Seed Milk Paint and Fusion Mineral Paint.
We are going to talk about how to arrange and style objects in your home to make lovely displays with your treasures.  I'll be bringing some fun props to play with during this part of the retreat, too.  We can play and take pictures, so be sure to bring your camera along, too.
I know people struggle with selecting colours for their walls and for things in their home, so I'm going to be chatting with our guests about that and offer some help.
Our day is going to spent a-top the beautiful Fitzpatrick Mountain at Smith Rock Chalets in Scotsburn.  This venue is incredible!!  They will be catering lunch and providing our snacks throughout the day, as well.  And we encourage our guests to make a weekend out of it and stay the night, too!  I believe there will be karaoke happening that evening, too, so you can paint all day and sing all night!  The Chalets are offering a discount to guest of our retreat, too.  So if you book a chalet, be sure to mention you're with the retreat!
HERE is the Facebook Event page.
HERE is where you can go to book your spot for the retreat.  Early Bird pricing is in effect until May 21st so book  now!
Hope to see you there so we can hang out, paint and work on making our homes just right for us!
To be continued,
Lori