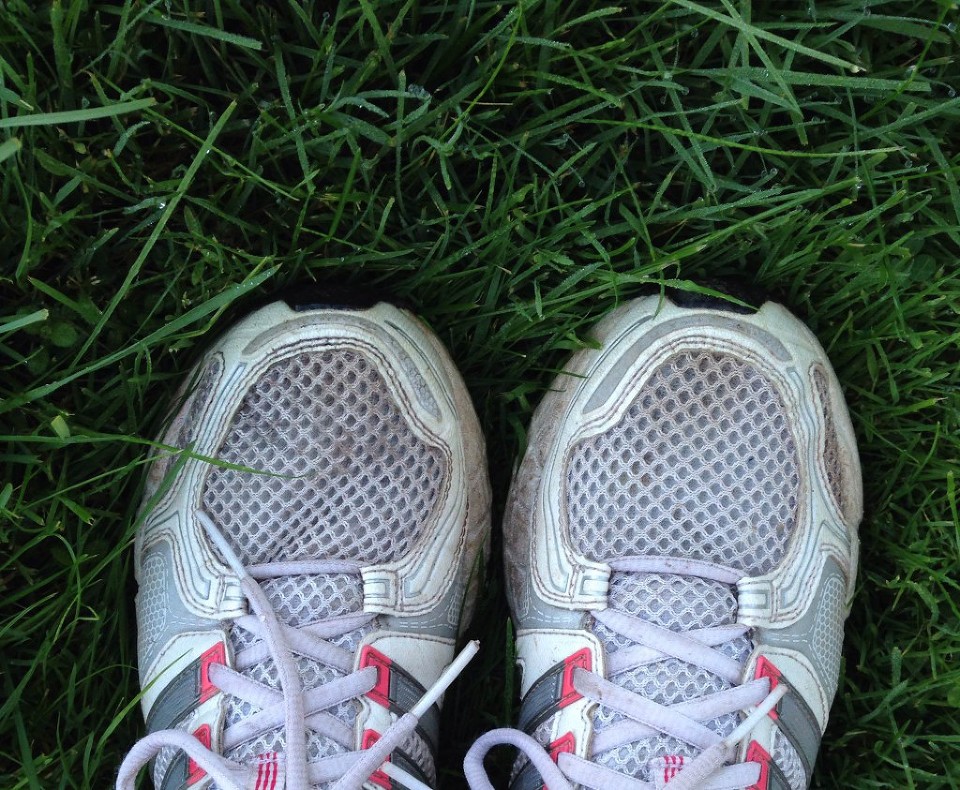 While at BlogJam, I met a fellow runner named Amy.  Amy has a blog called Crazy Mama Runs and she shared some of her story in her presentation.  Her story includes a mental breakdown, an injury and the need to run to beat what she refers to as the 'crazies'.
I used to run.  And I have a long list of excuses of why I barely ever get out anymore.  But that's exactly what they are – excuses that hold little or no merit.  I'm also carrying around about 3-4 extra 10lb bags of potatoes, if you hear me….and when I do run, too much stuff jiggles.  Amy's presentation really spoke to me and reminded me of the fact that I feel so much better when I run on a regular basis.  Not just physically, but mentally, too.  And I'm more inclined to make healthier choices when I'm active, too.
So, this morning I laced up a pair of kicks and headed out for a quick run before I left for work.  It was the perfect morning for it.  The sun was shining through the mist that was lingering, the trees are starting to turn and the air was filled with the sound of honking geese taking flight.  I sucked wind and I hurt, but I ran, not fast or far, but I ran.  It was a short road run, which is torturous to me, I much prefer the trail, but I didn't curse every step on that broken apart, crumbling pavement underfoot.
When I was out running, it occurred to me that this was the first run I had done from our new place.  Never once had I laced up my sneakers and ran out of our driveway.  I've gotten in my car and driven to the mountain.  Or I've packed a bag and taken it with me to change and run somewhere with my running buddy.  But never have I done a road run from here.  And that really hit me.  I need to change that.  I need to make running a regular part of my life again.  For my sake, my family's sake…..I gotta beat those crazies, too.
I recall a conversation with my wonderful family doctor that took place years ago.  I was totally stressed out at work and he questioned if I was getting daily exercise.  Nope, I wasn't. He suggested I start walking or doing something.  And it worked.  And when ever I feel that I'm too overwhelmed or can't deal with the curveballs life throws, I remember that conversation.  But, lately, I haven't done much about it.
But that changes today.  I'm not going to make the latest tabloid with my weightloss or be a guru, but I will make daily choices to improve my health and set a good example for my girls.  And, if you don't mind – keep me accountable, eh?
To be continued,
Lori