Last Christmas, Mom and Dad gifted every one of us the best kind of gift ever.  They gave us a 'pass' to a family day together at Pier 21, complete with gas money and lunch.  Now, for those of you how are unfamiliar with Pier 21, it was the landing place of many immigrants who left their homeland to come to Canada.  Both my parents came through as small children after they had left Holland, on their way to settle in Ontario with their families.
It was hard to figure out a weekend that all 14 of us could go to Halifax together for the day. Plus, Pier 21 underwent some changes over the past year, as well, which meant they opened for the season when everyone was getting into their busy season of racing…motocross, mountain bikes, road bikes or race cars.  Everyone was off in every direction until last weekend.
We carpooled and switched up children and somehow we ended up driving a childless car to Halifax….what a treat!  Somehow, I got deemed the driver of the lead vehicle, which was fine for the most part, until I ran into a slight hitch with a certain one-way street on the waterfront and my desire to turn left…..  Who knew Lower Water Street was one-way the whole length of it?!?!?  Thankfully, after a few detours and quite a few passes of the Historic Properties, we all found our way to Pier 21.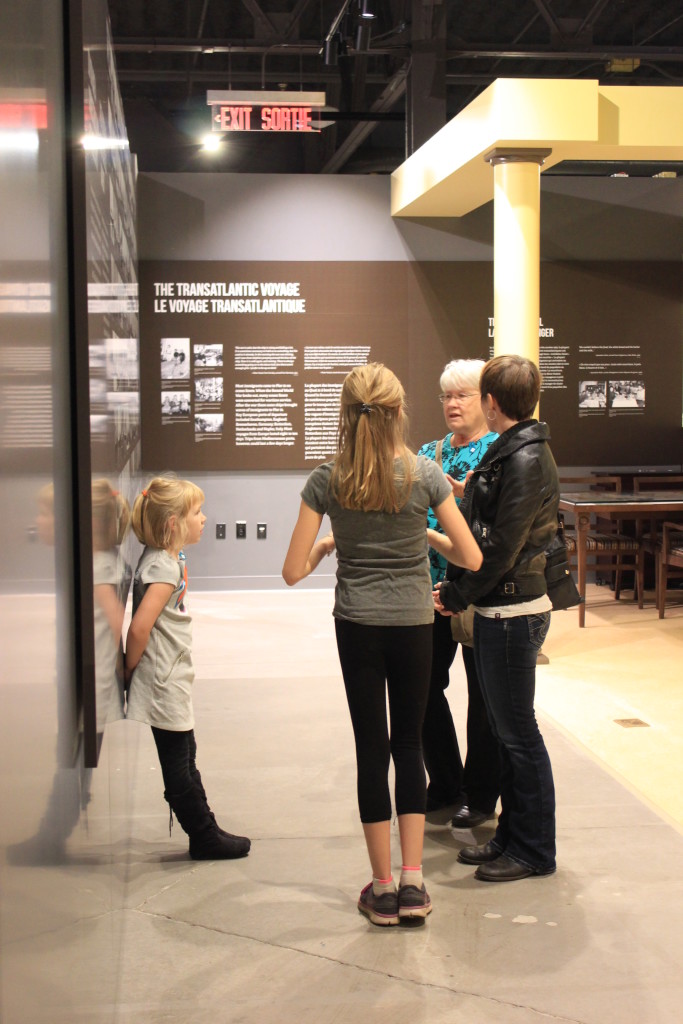 It was neat to hear stories first hand but also to see all the displays and hear other stories as well.  How brave of these families to leave everything they knew to set forth for a new land, a new dream and a new lifestyle.  I can't even imagine it.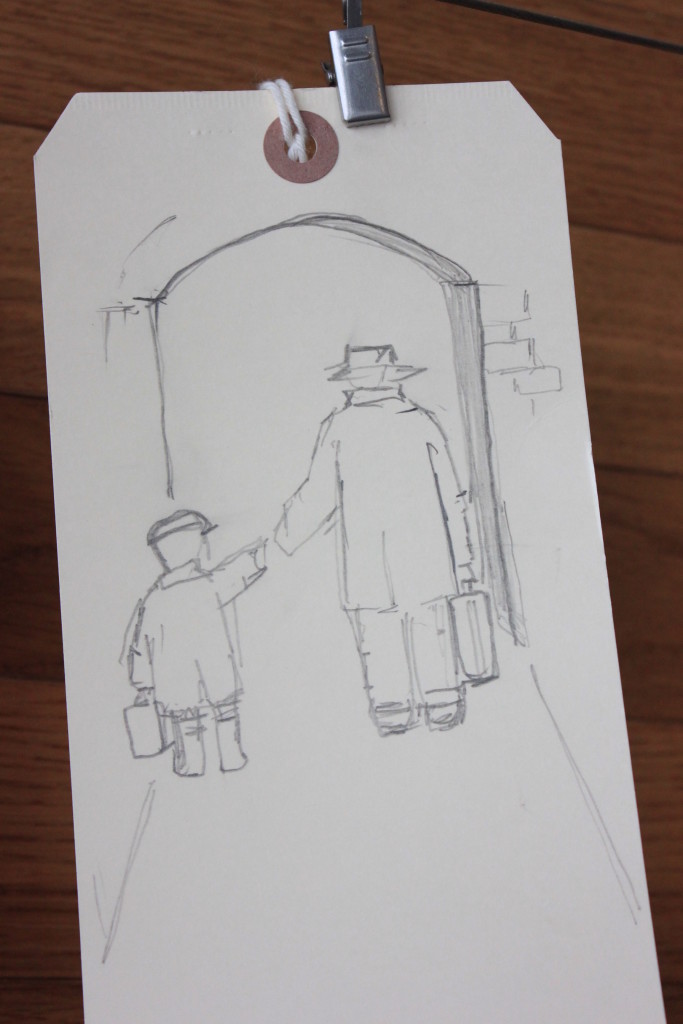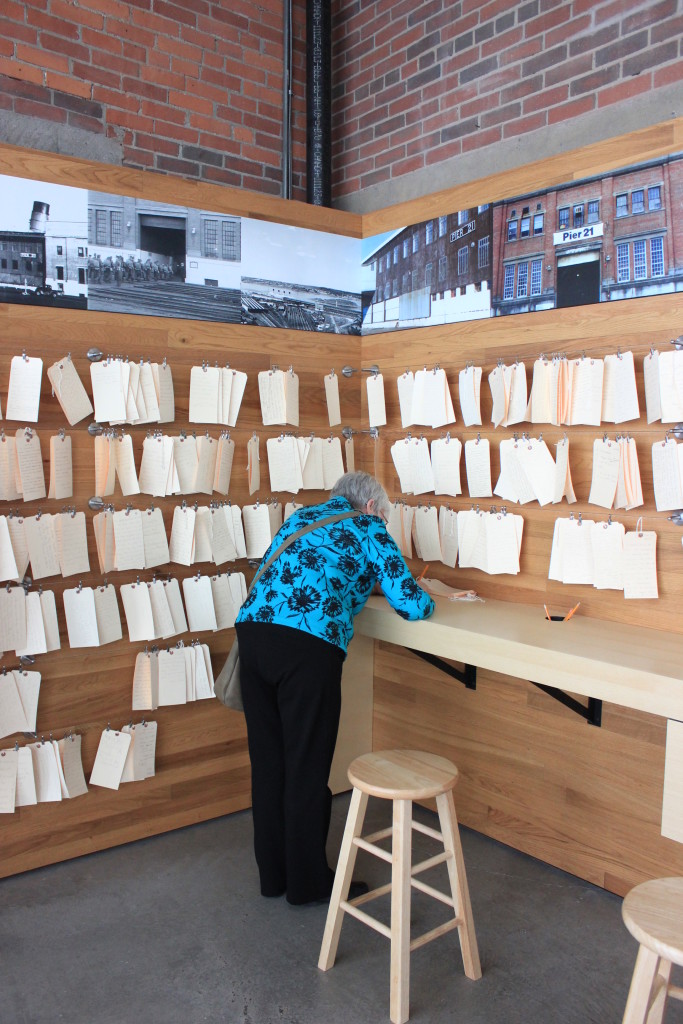 The curators of this museum did a fantastic job of making it interesting and interactive for all ages.  This display got my emotions going.  To see everyone's personal connection with Pier 21 was so amazing, the different stories, written is so many unique scripts, very neat, for sure.  I loved that even Hannah got into it and wrote her own name, along with Oma and Opa's names.



The thought of packing up your life in crates and trunks is overwhelming.  How would you know what you would need, what you would want?  How do you decide which treasures to take and which to leave….  Some of the people through Pier 21 were kids who were sent over seas during the war, who expected to be gone for 6 months but ended up staying for 5 years – how do you pack for that??




Over and over we heard how people were so amazed that as soon as they had that stamp on their papers, they were allowed to go anywhere in the country, they were able to just walk out the doors of Pier 21 and start their new lives.  Our country welcomed them in and let them start living their new lives here.

This is one of the exhibits that my girls enjoyed the most.  A store.  This store was stocked with canned goods, fresh fruit and breads, all pretend, but there for the children to play with, pack into shopping bags, ring through the till and hand to their customer.  I think they'd want to go back again, just to be able to play here.  This station allowed the grownups to study the other exhibits and do our own exploring while the littles were occupied.




The displays ranged from reading, to listening, to watching and to playing to learn about Immigration into Canada.  They truly had something for every age…whether it be the young or the young at heart… I learned so much about not only the time period of when my parents came to Canada, but also current immigration and the reasons for that.  So many things I never thought of before.


When people immigrate, they are required to pass a test about Canada.  This was a lot of fun to complete…and fail, as the case might be for me…. Sadly, I didn't know enough about this great country that I live in to pass the 20 question test.  One of the staff went over my test with me and told me some background information on the questions I got incorrect.  It was very interesting to learn more about Canada, things I should know.  Apparently, I should've paid more attention in school!  There was short quiz that some of the kids did, too.  Thankfully I was born here and didn't have to go through the process of the test, but it makes me appreciate how much the immigrants truly do want to be here.
This day with my family made me appreciate my roots, the story of my parents' journeys across the ocean, even more than I had in the past.  I appreciated getting to spend a day with my family and see the interactions between everyone, big and little.  And, now, I appreciate the history of this great country even more, and how everyone has a story about their connection to Canada.
I would highly recommend spending a few hours exploring Pier 21 and learning about our collective past.  Bring your kids, bring your parents, doesn't matter who, just go!
To be continued,
Lori