Here we are, early in the beginnings of 2018.  A new calendar means new goals, new words and a new start.  So, let's dive right in shall we?
Every year for the past few years, I have a selected a word to focus on over the course of the next twelve months.  Last year my word was Warrior, which you can read about HERE. And to be honest, I have two words for 2018.  Why two?  There is one that is heavy on my heart but it is so personal and private that I can't lay myself that bare here.  Maybe at some point I can share more but for now, I'll hold that one close to me heart.  So, for 2018, my word is MORE.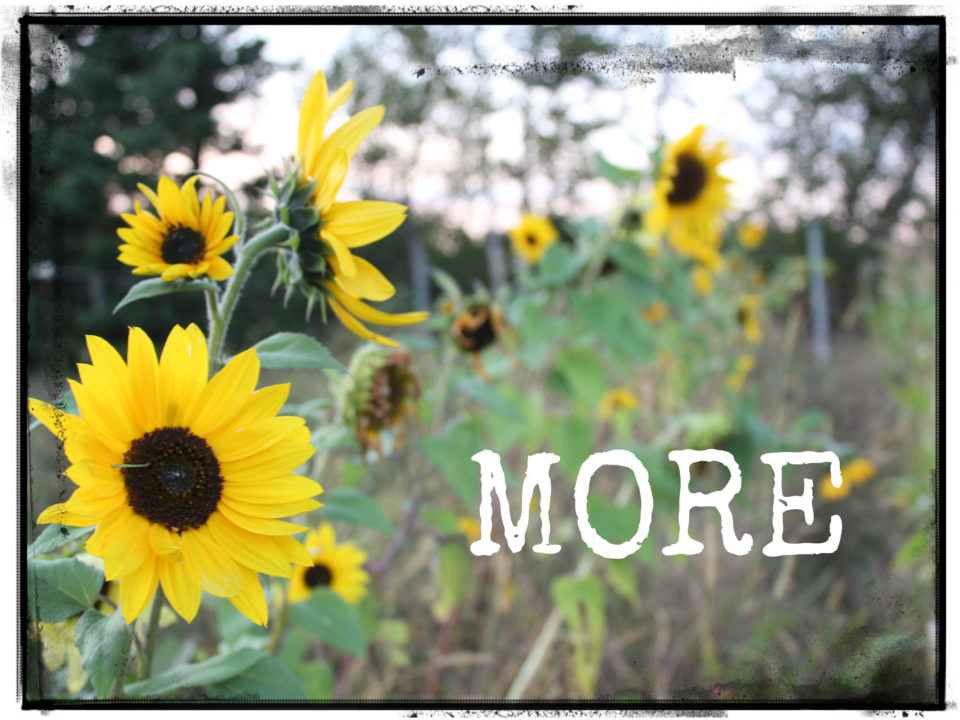 MORE was inspired by the need to look at my life and see what I need more of.  And, logically, the opposite of more is less and there are things that I need less of.  My friend Sam posted a list online the other day and it spoke to me.  MORE seems to be greedy, but once you read through, MORE is exactly it, I need MORE of somethings in my life and I'm going to bet that some of these will strike a chord with you, too. Here's my list of More!
MORE water, LESS sugar
MORE outside, LESS sitting
MORE God, LESS me
MORE creativity, LESS doubt
MORE adventures, LESS fear
MORE love, LESS worry
MORE scripture, LESS iPhone
MORE reading, LESS Netflix
MORE writing, LESS mindless scrolling
MORE yoga, LESS pudge
MORE space, LESS stuff
MORE grace, LESS perfect
MORE backroads, LESS busy
I do so much without even thinking about it and I waste so much of my time with things that don't really matter.  I want to be more intentional with my time – the time I give my work, my family, my friends.  I'm glad to sit down and make a list so that I know what I want to focus on.  It's so easy to get distracted and let other things pull you this way and that.  But, here, here is my concrete list.  Here is what I want to focus on.
I asked my friends if they had a word for 2018.  Alena said her word is NO.  And it's perfect.  Here's what she said: "For me this is going to be the year of NO.  Not a positive word but I hope it brings positive change! NO when I can't, NO when I don't want to, NO when my plate is already overflowing, NO to being so busy I can't catch my breath, NO to 'stuff', NO to being overwhelmed and stressed out, and NO to giving time I don't have."  I can't wait to watch this pan out and I hope it means she'll have more time to hang out with me, selfish, eh? 😉
My dear blogging friend, Jennifer of Simple Local Life has a word that makes my heart happy for her – CREATE!!!  She is a self-proclaimed non-creative, so she was excited to share her word with me. "Create products…create experiences…create memories…create income"  I'm so proud of what Jennifer has built since she first introduced herself to me over 2 years ago at the first Blogjam!
Another blogging buddy, Suzi of Confessions of a Fitness Instructor started a private FB group to help with setting goals, whether they are fitness related or not.  You can join it HERE.  And a new blogger friend that I haven't met yet wrote THIS post about her word SIMPLIFY.
I asked some other people and the words that have been chosen are amazing!!  Surrender, Amplify, Change, Enjoy, Rest, Self-Care….so many good ones!
I'm working out my Farm Fresh goals for 2018 into a concrete list.  I'm not a natural goal setter, so to have an actual, tangible list will be a first for me!  But I'm excited to see where it is all going this year!  Last year was pretty amazing for me in terms of the blog and now that I've had a taste of it, I want MORE!!  lol
I'd love to hear if you have a word on your heart for 2018!! Please share it with me!
To be continued,
Lori