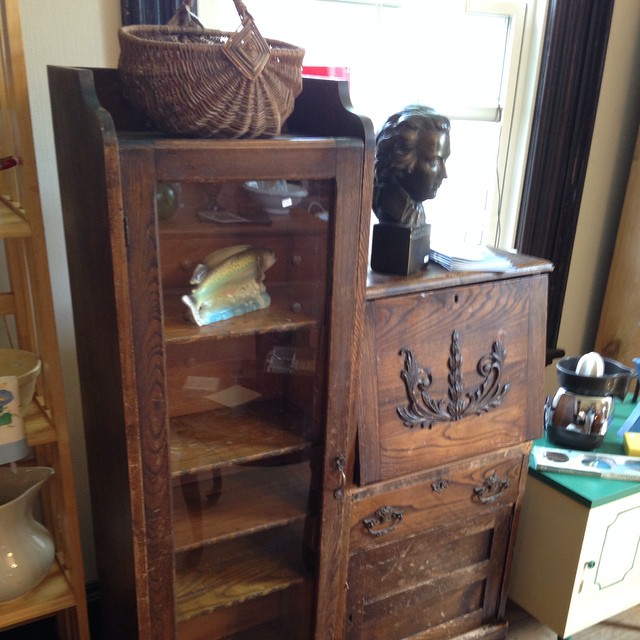 Anyone remember that we bought this cabinet this summer? I happened upon on the Facebook page for Babbling Brook in Truro and it seemed perfect for our living room.  a  Mr.Byrne while he was away for work and he agreed that it was just right.  So I took it home and moved it in.  And there it sat in its unloved state….in the corner of our living room until it was time to put up the Christmas tree.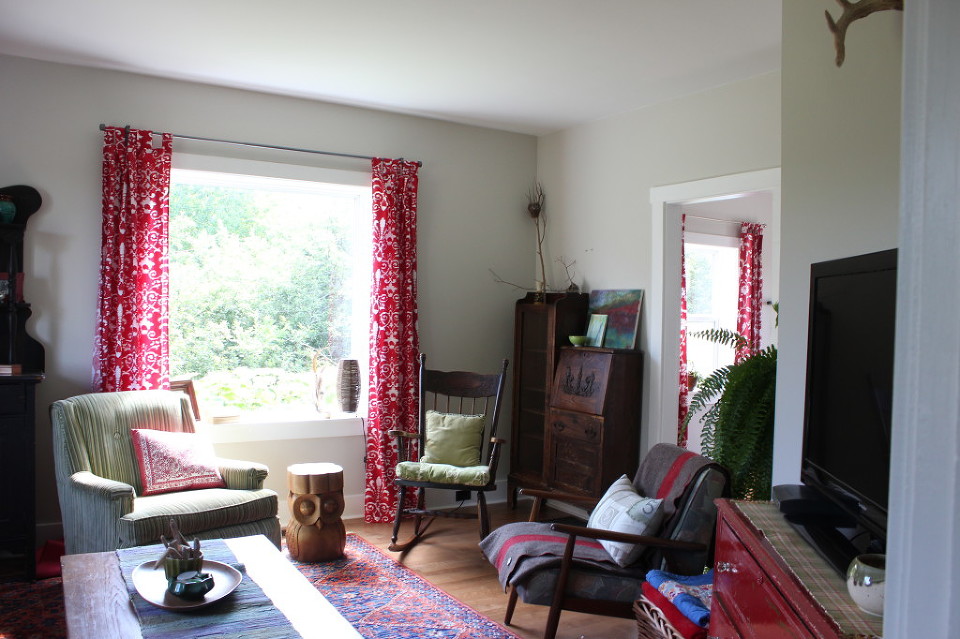 It had gathered a collection of bits and bobs, nothing too planned or well curated while it sat in the living room.  I had planned on painting it at any moment….but of course, I hadn't done it by the time we moved it to the studio for the holidays.
We had lots of debate over how it should be painted.  White? Gray? A colour? In the end, we both decided that we wanted it to tie in with the other cabinet we've got in the living room that we got in Great Village.  I knew I needed to have a blackish brown colour that looked kind of like an aged finish. Preferably with some grain showing through.  I also knew I wanted to keep the hardware….sometimes finding hardware that all coordinates on a piece like this can be tricky. I also knew I wanted the inside to contrast so whatever I put in it would stand out and not disappear.  I did accomplish that at some point during the fall.  The interior of the shelf section and the secretary got painted with Fusion Mineral paint in Buttermilk Cream.
So, my goal was to have it painted and ready to move back in when the tree came down.  And then some other custom projects came in and it was Christmas and the girls were around and the quarters in the studio were getting pretty tight.  So, nothing happened.  At all.  Until the needles starting dropping from the tree and I knew it was time.
I head to the studio, get out my Miss Mustard Seed Milk Paint in Typewriter and Curio and realize I have very little Typewriter left….oh dear.  I make my special mix and put a coat on the cabinet.  Ugh.  I think the second coat will need to be blacker.  An unexpected trip to Truro to Onlsow Historic Lumber was in order. Scroll through Instagram as the paint dries….and viola…the perfect picture of what I'm trying to achieve!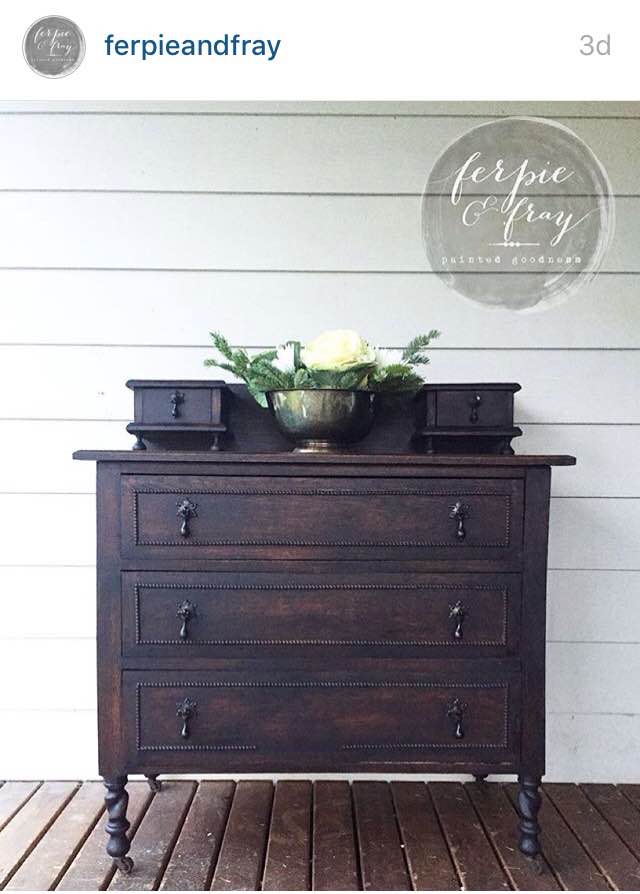 See???  Isn't it awesome???  This Instagram feed has some great painted furniture, if you are into that sort of thing….which I obviously am!
No trip to Truro required, much to Michael's dismay, we had talked about a date lunch at Hub Grub! I did up the drawer as a test and took it in to compare it to the other cabinet.  And we both loved it.  I also checked with Catherine, as her taste is pretty darn good, look who she has for a friend! 😉
Since it passed the test, I sanded and sanded that thing and then I oiled it with Miss Mustard Seed Hemp Oil, which is my favourite finish ever! We brought it back into the house that day.  Another benefit of using non-toxic products like Miss Mustard Seed!

I tried to style it, but I didn't feel the huge urge to dig out a bunch of stuff and play that day so I played a bit and called it quits.  It'll do for now, I know it's one of those things that will change and evolve.  I'm debating whether I should put some of my favourite decorating books on the bottom shelf, if they'll fit.  I'd like to have them handy and prettily displayed, instead of stuck on the shelf in the office, where no one sees them.

There you have it, a great little cabinet, tucked into the corner of our living room, now with a fresh, richer look.  The power of paint always amazes me!
To be continued,
Lori